Hi Everyone,
In this post am gonna explain How to hack wifi using Wifi Hacker to hack wifi for free. This tutorial will mainly focus on how to hack wifi password using wifi password hacker. This can be used to get free access to your nearby secured wifi networks.
However before getting hands on session on
How to hack wifi,
hereby we declaring that this post is only for educational purpose and we are not responsible for any damages by using the mentioned methods on
How to hack wifi
using
Wifi Hacker
to
hack wifi
for free.
Tools setup Click to download each
(1)
Backtrack (You can get it here)
(2)
Wireless Card that Supports Packet Injection
(3)
A Wireless WPA/WPA2 Connection that uses PSK Mode (Pre-Shared Key)
(4)
A Dictionary that has the Password we are trying to get
.
Before we Start, I take it for Granted that you are aware of a Few things...
I Hope You already have a Live CD, Bootable USB or a Virtual Backtrack Installed in your System. In case of Virtual Machine, You will need an External Wireless Card. And in case you don't already have Backtrack, I suggest you bookmark this page and get it first.
Also, I hope you have googled by now to see if your Wireless Card will support Packet Injection or not. In case you are not sure, Use the Test Mode in Aireplay-ng (-9) to see if it supports packet Injection. Again, if you haven't already done that go and get this done first :)
Now that we are Ready.. Lets Begin..
If You are Using a Boot CD, As in my case, You will see the folllowing screen when the CD Loads.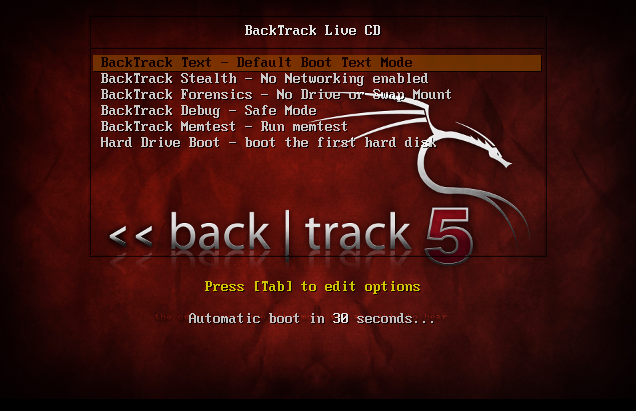 Just Select "
BackTrack Text - Default Boot Text Mode
"
When the Screen Loads, Input "
startx
" to move on to Graphical Mode.
After Your Desktop Loads. Open up a Konsole and type in "
iwconfig
" to see your Wireless Interfaces.
As you can see in the above Image, My Wireless Card Shows up as "
wlan0
".
Now, We will put the Wireless Card into Monitor Mode. In this Mode, Quite Simply, We will be able to monitor all the Traffic that flows around in our Scan Area.
To put the card in Monitor Mode, We need to use a program called "
airmon-ng
"
The Command is Simply,
Code:
airmon-ng start wlan0
This is what it may look like if Your Wireless Interface is Successfully put into Monitor Mode.
Click here to go to part 2 tutorial